Instructions
Now that you've booked your Virtual Risk Assessment we've got a few steps to cover before your call.
Before your session:
Book your session via https://app.mitti.com.au/book-assessment or https://www.mitti.com.au/book/
Add the session to your calendar (via the confirmation email)
Read the disclaimer below
On the day:
Be ready at your preferred site where you'd like the assessment to take place.
Bring others who you'd like to be a part of the call with you.
Ensure you have a smartphone or tablet with the latest operating systems and browsers installed (Chrome on Android, Safari Chrome on iOS or the Samsung default browser)
Charge your phone to 100%, as the call may use a significant amount of battery
We highly recommend that you use headphones to allow the use of your phone during the discussion.
Have a torch ready in case of low light situations
Starting your call:
1. At the scheduled time, you will receive a text message from "VideoAssist" or if we do not have your phone number, an email with a link to start your session from your smartphone. You can not reply to the text message or email.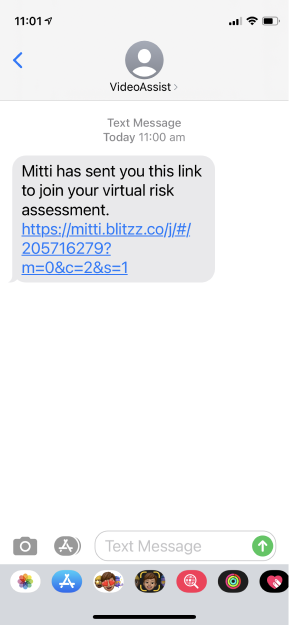 2. Press the connect button on your mobile or tablet device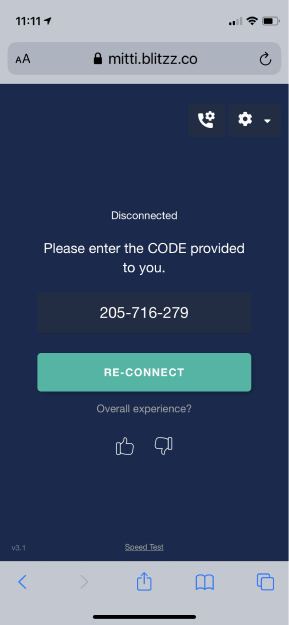 3. You will need to agree to the privacy policy before the call can commence.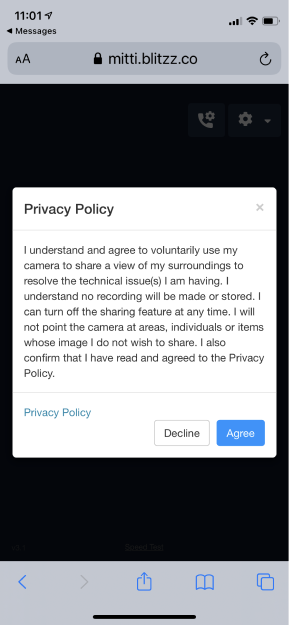 4. Allow access to your location - we use this information so you can see how you compare to other similar businesses in your area.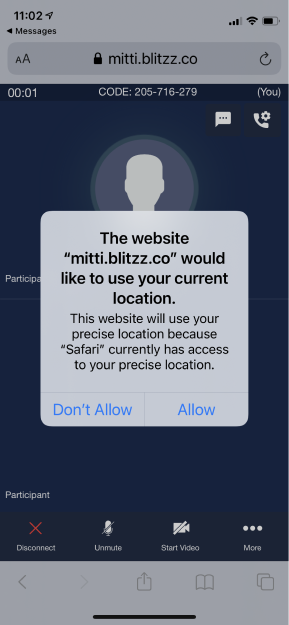 5. When you first join the meeting, you will need to allow access to the camera A pop-up message will display for you to allow access to the camera. You should now be able to see the other participants on the call.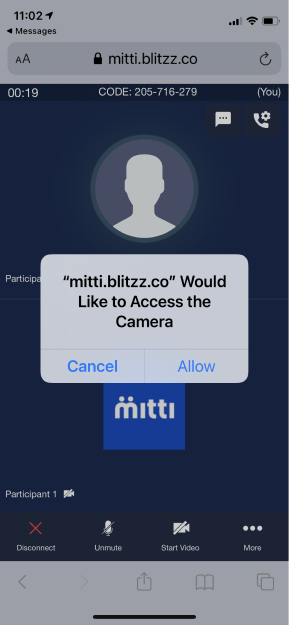 6. After allowing access to the camera you will be able to see the other call participants, however, you will be on mute, click the microphone icon at the bottom of the screen. A pop-up message will display for you to allow access to the microphone. You should now be able to see and hear the other participants on the call.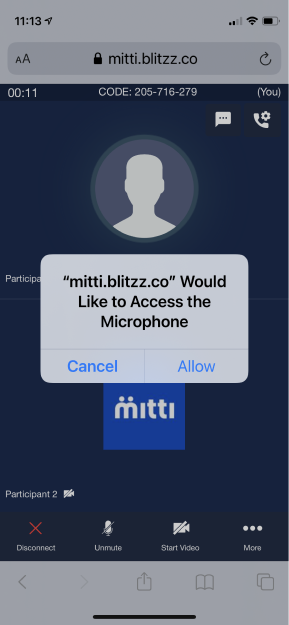 The other participants on the call will be your account manager, a risk consultant, other members of your company and possibly your broker (if you have been referred by a broker).
During the assessment the video will be recorded, snapshots and annotations may be taken to form part of the report that we will provide to you. The consultant will ask a series of questions about your workplace and the strategies you have in place to manage risk.
Following the assessment, you'll receive a report detailing the findings and access to a copy of the recording for review.
Problems and troubleshooting:
For support or questions, contact us here or on 1300 164 884 (Office Hours Mon-Fri: 9:00-17:00 AEST) Calls from mobiles, public telephones or hotel rooms may attract additional charges.
Support articles can be found here
Disclaimer - Virtual risk assessment
The recommendations and observations contained in your risk assessment are based only upon the information available to Mitti at the time the assessment was completed and may not be comprehensive.  Before acting on any information contained within this assessment or in recommendations made, Mitti advises you to consider the appropriateness of the information having regard to your objectives, financial situation, legal obligations, and needs.  All statements made in this assessment are made in good faith however, Mitti does not give any warranty as to the accuracy, reliability, completeness or use of information contained within this assessment and, except for any liability under statute which cannot be excluded, Mitti, its directors, employees and their representatives do not accept (1) any responsibility for updating or correcting any statements made in this assessment and (2) any liability (whether arising in contract, or tort, or negligence or otherwise) for any error, misrepresentation or omission contained in the risk assessment or for any resulting loss, damage, cost or expense (whether direct, indirect, consequential or otherwise) incurred or suffered by its recipient or any other person.
Subscribe to receive exclusive offers in your inbox
Mitti Insurance Pty Ltd (Mitti) (ABN 56 640 574 385, AFSL 528433)
Mitti Insurance Pty Ltd is a related entity of QBE Insurance (Australia) Limited.